BLOCKCHAIN CONSOLIDATION AMPLIFIES CARDANO'S PRESENCE ON A GLOBAL SCALE
News
11 Jul , 2021 | 2:53 am

| admin1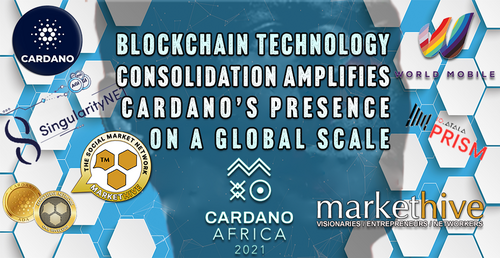 BLOCKCHAIN CONSOLIDATION AMPLIFIES CARDANO'S PRESENCE ON A GLOBAL SCALE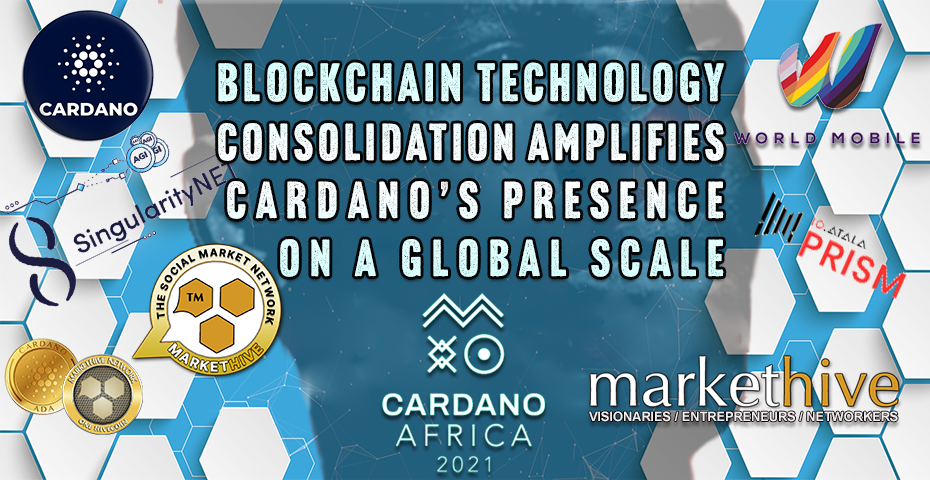 While the Markethive Social Market Network continues to work very closely with Cardano with its integration to the Cardano Blockchain, a lot is happening with the many other facets of Cardano and IOG to further establish their presence in this evolving world of technology. Its technology can assist in a new redistribution of power and give people greater freedom, bringing the world together with a more equitable landscape.
As we anticipate the imminent rollout of Markethive's multifunction news feed interface, gamification platform, and migration to the Cardano blockchain, I will outline some of the amazing initiatives IOG has set into motion; with the announcement of a historical event and the recognition, Cardano has received of late. This is all wonderfully exciting news putting Cardano at the forefront as one of the fastest-growing, most stable, most mature, and systematic cryptocurrency projects.

What Is IOG?
Input Output Global, otherwise known as Input Output Hong Kong (IOHK), is a research and development company committed to using the peer-to-peer innovations of blockchain to build accessible financial services for all. The company was founded in 2015 by Charles Hoskinson and Jeremy Wood. IOHK is an engineering company that builds cryptocurrencies and blockchains for academic institutions, government entities, and corporations for the Cardano blockchain.
The first is the Alonzo project, which is essential for Markethive's smart contracts and many other companies committed to utilizing Cardano services.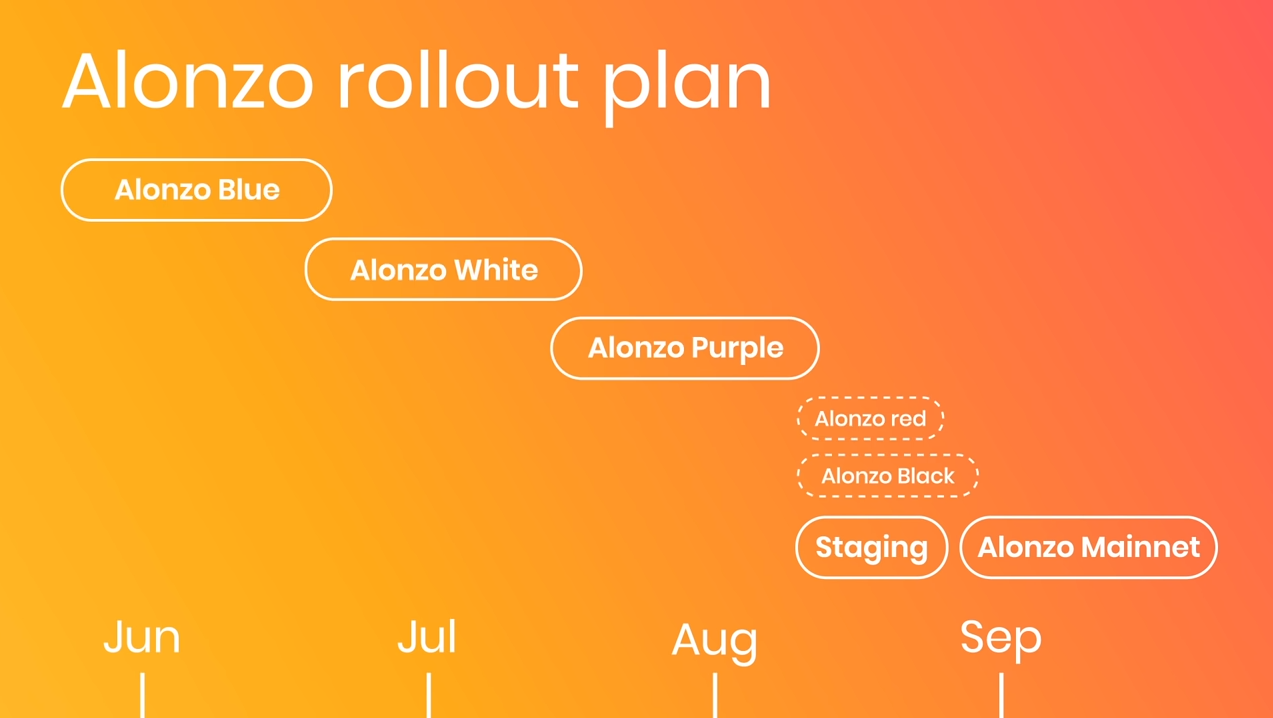 The Alonzo Roadmap
The Alonzo roadmap consists of a testnet and is essential for implementing smart contracts on the Cardano blockchain. The different stages of the Alonzo roadmap are color-coded, with Alonzo Blue being the first testnet phase. The initial phase has been deemed very successful, and the Alonzo White phase is set to run by this coming week.
This stage allows a broader net of testers with the overall goal to integrate the off-chain components within the new stable environment, including the wallet backend. This will also enable partners to test their scripts in a live setting and run for approximately two to four weeks.

Alonzo Purple is the third main stage before the main net when the testnet becomes public. All pioneers and partners start working on their projects, so there will be a step up in users from every stakeholder group load testing the network. This will also see the integration of Daedalus flight wallet and the big exchanges.
Alonzo Red and Black are a minor factor and can be summarized as a "tidying up" of everything before the mainnet launch. IOG is close to the hard fork combinator at this stage, bringing the Goguen smart contract phase to Cardano.
There's enormous commercial interest, traction, and community effort with Cardano and evident with Alonso Blue, soon to be White. It is also evident with independent projects and how fast they're moving.
With the launch of Mary earlier this year, Cardano already has enormous traction with tens of thousands of NFT assets issued, worth over $10 million that have been sold. It also brings native assets to the Cardano test network and allows developers to create custom tokens or migrate unique existing projects to Cardano like Markethive Hivecoin and SingularityNET AGIX and are very much aligned with Cardano and Charles Hoskinson's long-term vision.
Charles Hoskinson Meet Grace
Singularity.net is a decentralized global AI marketplace and, together with Hanson Robotics, has created a platform where the world of biotech meets that of AI and robotics. Their vision is to facilitate human-like robots as medical assistants to meet patient health care needs initially in aged care—the Awakening.Health project is on a mission to cure the pains of the medical system and deliver services at a low cost, and helping patients worldwide.
Meet Grace, the medical assistant robot; she is named Grace as it means Divine assistance given to humans for their regeneration or sanctification. Watch the video below.
SingularityNET is also working in Africa to leverage advanced technologies such as AI, blockchain, and machine learning to support African scientists and technologists.
So there is simply no end to Cardano's technology and scope, and ability to integrate all aspects of life. Cardano has also seen a tripling in the population size of the community network since last year and a lot of value accumulation as well. Cardano is the number one stake network in the entire cryptocurrency space, with a lot of excitement, activity, and genuine interest in the overall mission of Cardano.
ADA Welcomed By Grayscales
There is also a lot of institutional interest, and recently Grayscale Investments, the world's largest crypto asset manager, added Cardano's ADA to their Grayscale Digital Large Cap Fund portfolio.
According to this report, Grayscale has adjusted the Fund's portfolio by selling specific amounts of the existing Fund Components in proportion to their respective weightings and using the cash proceeds to purchase Cardano (ADA). This makes ADA the third-largest crypto holding behind Bitcoin and Ethereum.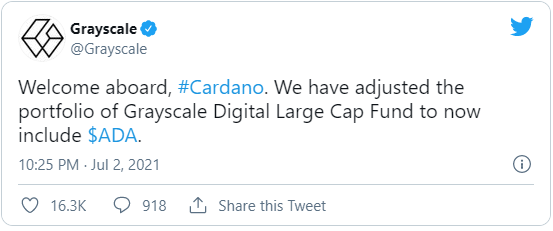 Vision For Africa Making Headway
Charles Hoskinson's vision for Africa is making headway with the recent announcement of a historic deal with the government of Ethiopia to bring 5 million young Africans to the Cardano blockchain. This is the most extensive blockchain deployment globally that will give a digital identity to students and teachers.
Cardano's technology and Atala PRISM will create a national attainment recording system to verify grades, monitor school performance, and boost nationwide education. This is done by the Atala PRISM decentralized identifiers, or the DID identity solution.
Atala PRISM is a decentralized identity solution that enables millions of people to own their personal data. Allowing individuals to interact with organizations seamlessly, privately, and securely. It is the key to powering the 'trust economy' globally and was developed by Input Output for Cardano.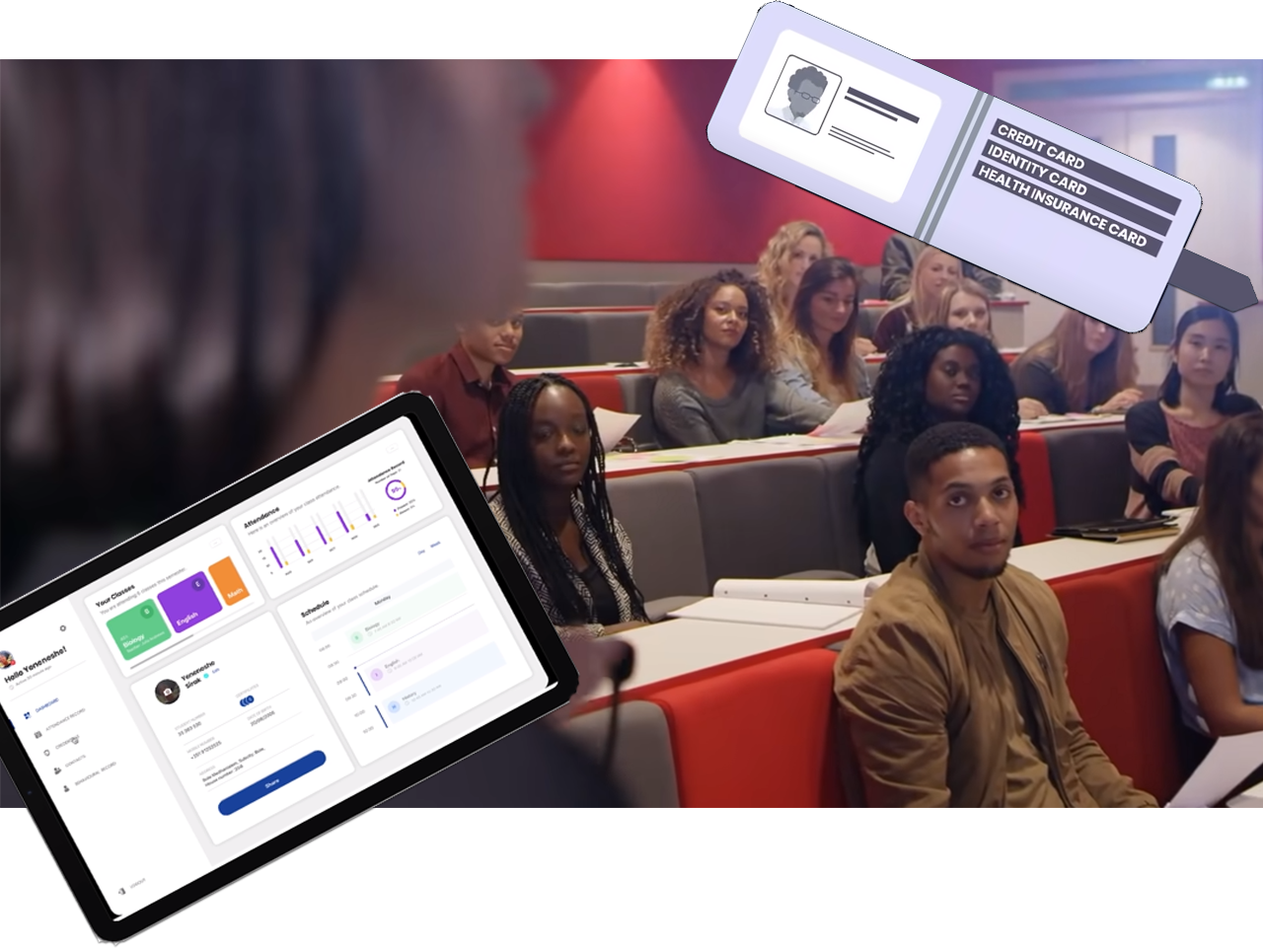 World Mobile And Cardano
World Mobile's vision for Africa also aligns with Cardano's mission: to bank the unbanked. However, first, they must connect the unconnected, which is what World Mobile is doing.
A recently announced partnership between Cardano and World Mobile will lay the infrastructure foundations for a connected Africa, focusing on remote and hard-to-reach areas. So everyone gets an equal chance to access data services, no matter where they live.
They are starting with 100k new users in Zanzibar and Tanzania. Also, Atala PRISM identity integration to Cardano means plugging every new mobile user into Cardano, giving them a digital identity, and offering access to insurance, micro-loans, and a host of new services. Cardano will be providing real Defi for real people or, as they like to call it – "RealFi."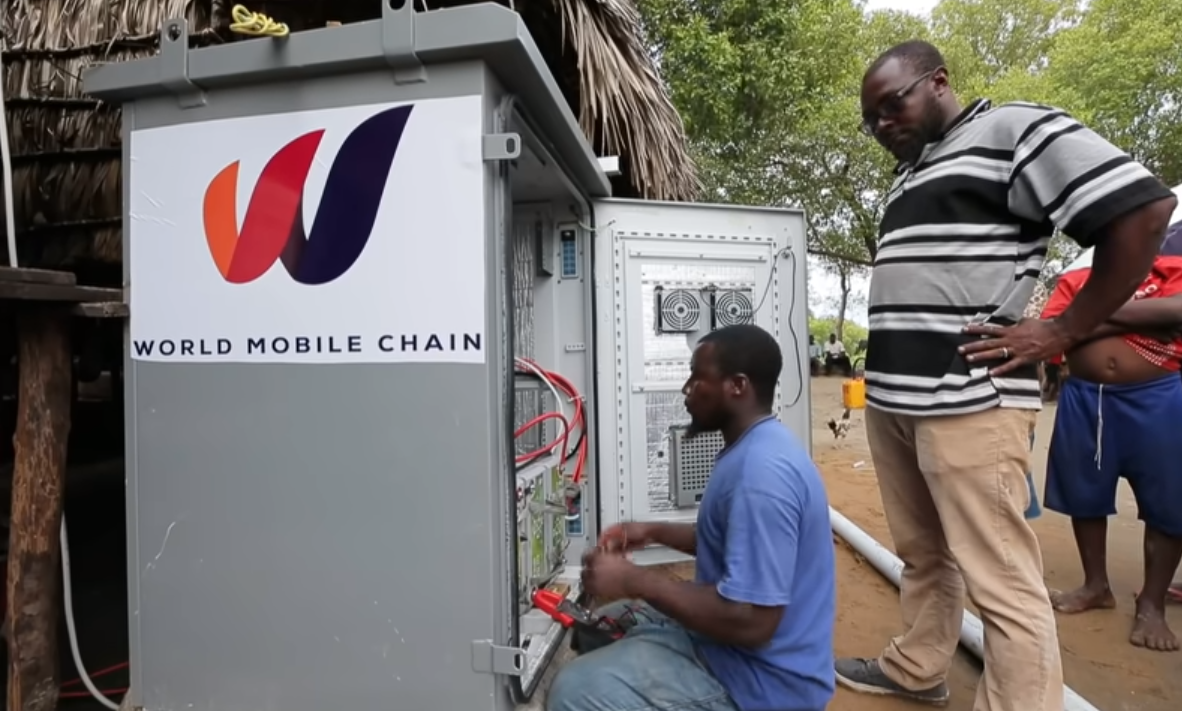 These events are just the tip of the iceberg and the revolutionary first steps in delivering the all-encompassing strategy for #CardanoAfrica.
The next few months will be exciting as Cardano systematically goes through the Alonzo rainbow leading to the hard fork combinator event. There will be a lot of apps on the network and growing to a vast, vibrant ecosystem.
All Is Taking Shape; Now It's Up To Us – We The People
Nearly three decades ago, the Internet enabled us to improve our lives with the availability and accessibility of information; however, it's had its problems. As a result, tech giants have enormous power today where we have had to trust these companies leading to abuse of that trust.
Blockchain technology projects like Cardano and the Markethive social market network will bring a new wave of technological disruption on the trust level. They are helping to solve the issues we have in social media and the legacy financial system today.
The technological revolution will redefine the social contract. It happened with the introduction of the internet, and now it's happening again because of blockchain. It will give people more power and control over their lives.
Technology is the tool that needs to be adopted by the people. For things to change, the revolution must take place at the social level. Technology alone will not bring about change in society for us.
All who see the bigger picture of what Cardano and Markethive and many other collaborating partners are doing to connect and unite the world, decentralizing and offering financial, self-sovereignty, and identity, will join us in creating a force for good, liberty, and freedom.



Written by Deb Williams
Chief Editor and writer for Markethive.com, the social, market, broadcasting network. An avid supporter of blockchain technology and cryptocurrency. I thrive on progress and champion freedom of speech and sovereignty. I embrace "Change" with a passion, and my purpose in life is to enlighten people en masse, accept and move forward with enthusiasm.
U-Rock Radio™ on Market Hive